The Many ways to say love for the Holidays
By Barbara Ann Cerda | Contributing Writer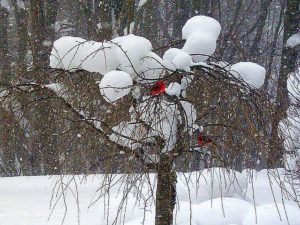 Red cardinals paired on snow-laden branches. Winter blows making dancing snow swirls. Red noses are filled with scents of cinnamon and mulled wine, filling cold air with warmed recollections of love. We hear favorite Yuletide carols and long for the romance of fireside light.  And beyond windowpanes, winds howl while delivering its thick coat of white.
When the weather outside grows cold writers become like kittens. Our favorite places to create become the warmest safest spaces to be, to read and to write. Add hot coca and warm comfort foods and the spell of holiday enliven our imaginations. North Pole residents return with a hint of presents waiting for discovery. No matter the language, at holiday time authors find nuggets of life to write about.  And in any native speak writers as children make wish lists too.  Here is a few you may want to whisper into Santa baby's ear.
MS Surface Studio and its smooth clean lines makes cuddling up in a comfy nook that much easier.  But don't stop in just creating clever and artful prose. This powerful tool is also a place to create masterworks. Beware. Using this marvelous machine can become addictive.
Interaction Technology has become a very important part of our daily lives. We wear it and use it to track our every function. We converse with it.  The coming of Siri and Alexa has placed us on a path of obtaining important assistants in our endeavors at composing eloquent content. They have an infinitely expanding skill base with future enhancements that will mimic conversation, what better gift to discover under the Christmas tree.
From Adobe support, comes introductions of their newest and cleverest software innovates for 2017.  What could be finer than a Christmas gift that can bring your work to new levels of enjoyment and proficiency?
Collaborating using Team Projects is a hosted service for CC enterprise. This software offers users collaborative features designed for content professionals.  You can share editing features and enhance scalability while scheduling workflows with shared projects. It keeps us agile and supports mobility.
New VR Support satisfies your yearnings to see your prose and characterizations come to life.  Meet VR workflow also in Premiere Pro for 2017. The technology of stitched equirectangular video to overlay imaging and enables you to edit content while viewing the results.  Yeah…too cool I know. This is a very powerful virtual reality tool.
Expanded Destination Publishing enables publishing of your newest masterpiece directly to your business portfolio…seamlessly. You will want Adobe Media Encoder CC. Target all of your favorite social media with video or digital content like Behance, YouTube, Facebook or Twitter. Destination publishing offers a quick delivery of content to fans, publishers, or employers.
The holidays are also a time for contemplating how to share your creatives.
Independent publishers and authors are becoming game changers. Perhaps the most thoughtful and useful gift an author can received is airfare to join the annual mass migration to New York for the 2017 Book Expo. This is a wonderful opportunity to reveal your craft to the appreciative.
Growing power in independents who are creating and self-publishing is a major force in literary communities. Maintaining the most current in tools will meet the growing demand for sparkling content. No one should be caught off guard by the eruption of success being seen in the small and independent publishers and producers of craft.
There are many ways to say love for the holidays.  Whatever amazing pledge of devotion you find in your festive stocking.  It is always wonderful to remember the love.  
Share your holiday season stories and questions with ChapterSee.